FAQ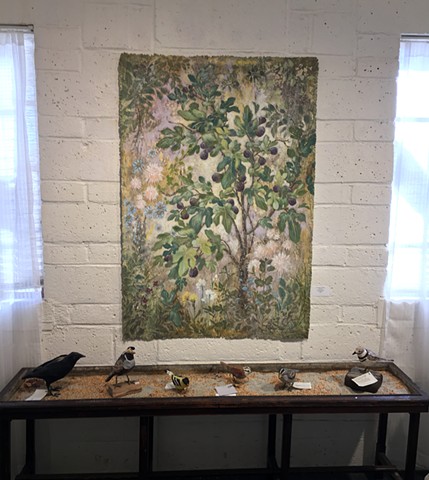 What are painted tapestries?
Painted tapestries are simply my original unstretched paintings on heavy cotton canvas, that I make with frayed edges, designed to hang unframed, from a hidden wooden dowel. They are not woven like traditional tapestries, instead I paint them with layers of acrylic paints and pastels.
Why do you paint this way?
I love the rustic, organic feeling of the canvas, when it is hanging loosely, with distressed edges. It can also evoke the texture of heavy handmade paper, like a scroll. And I like the way it feels more integrated with the wall, not separated by a frame. Painting large-scale, which I love, also works easily and naturally with this format.
How does one care for a painted tapestry?
It may be dusted, or lightly wiped with a damp cloth if needed. While hanging, now and then humidity may cause the edges to curl slightly...simply re-shape by rolling them gently back. In colder temperatures, the canvas will feel less flexible. When storing for an extended time, roll the tapestry loosely with the painted side facing out, and stand it on end rather than laying it down. Creasing or folding should be avoided, as it will leave a permanent mark.
Do you paint commissions?
Absolutely! I enjoy working with clients to create a uniquely beautiful and personal artwork, designed for them and their home.